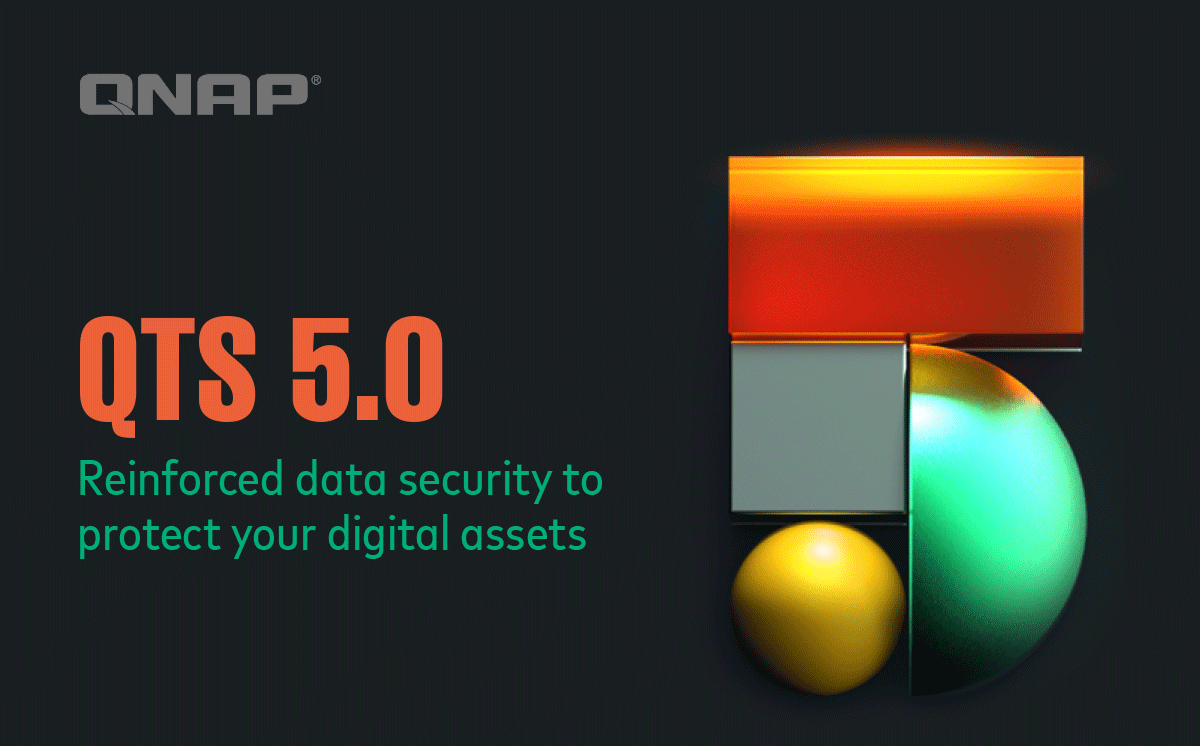 QNAP Officially Releases QTS 5.0 Software for NAS
QNAP® Systems, Inc. (QNAP) is officially released the QTS 5.0 operating system, which includes an upgraded Linux Kernel (5.10), improved security, WireGuard VPN support, and enhanced NVMe SSD cache performance. A new app (QuFTP) is available to help fulfill personal and business file transfer needs. Starting from QTS 5.0, exFAT is also natively supported free of charge on x86-based QNAP NAS, providing users with faster large file transfer and smoother media editing experience.
"With the new Linux Kernel 5.10 featuring greater hardware support, alongside advancements in security, QTS 5.0 demonstrates excellent capabilities for QNAP NAS to leverage the latest technologies and to protect digital assets," said Tony Lu, Product Manager of QNAP, adding "Besides automatically updating apps, QTS 5.0 includes more comprehensive security settings, notifications, and related apps to help keep NAS up-to-date and ready to face changing environments and conditions."
Key new apps and features in QTS 5.0:
Free exFAT support for x86-based NAS:
exFAT is a file system that supports files up to 16EB and is optimized for flash storage (such as SD cards and USB devices) – helping accelerate large media file transfer and sharing.
TeamViewer support:
By installing the TeamViewer QNAP NAS app, users can remotely manage and connect to all of their QNAP NAS devices from a Windows® PC, providing a secure remote access solution without requiring complex VPN settings.
Optimized user interface:
Includes smoother navigation, a comfortable visual design, a notice board for simplifying first-time NAS installation, and a search bar in the main menu for quickly finding apps.
Increased security:
Supports TLS 1.3, automatically updates QTS and apps, and provides SSH keys for authentication to secure NAS access.
WireGuard VPN support:
The new QVPN 3.0 integrates the lightweight and reliable WireGuard VPN, providing users with secure connectivity and an easy-to-use interface.
Boosted NVMe SSD cache performance:
The new kernel improves NVMe SSD performance and utilization. When cache acceleration is activated, SSD storage can be utilized more efficiently while also offloading memory resources.
DA Drive Analyzer with AI-powered diagnostics:
The DA Drive Analyzer leverages cloud-based AI to predict the expected life of drives, assisting users in planning for eventual drive replacement to protect against potential unexpected downtime and data loss.
Enhanced image recognition with Edge TPU:
By leveraging Edge TPU to QNAP AI Core (the AI-powered engine for image recognition), QuMagie can perform faster face and object recognition, while QVR Face strengthens real-time video analytics for instant facial recognition.
QuFTP fulfills secure file transfer:
QNAP NAS can perform as an FTP server featuring encrypted SSL/TLS connection, QoS bandwidth control, setting FTP transfer limitations or speed limitations for users and groups. QuFTP also supports FTP Clients.
Learn more about QTS 5.0 here
QTS 5.0 is available from the Download Center.
Note: Features are subject to change and may not be available for all QNAP products.